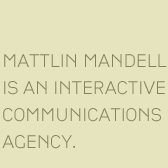 creating interactions that increase interest, build involvement, inspire loyalty and evoke response. Our clients are those who understand that interactive touchpoints create powerful, effective communications - and we help them achieve their business objectives with strategic planning, creative development, design and production.
Take a few minutes to explore our website. It won't answer all your questions - in fact it's designed to answer only one:
Is it worth your time to get to know us better?
If the answer to that one question is "yes," contact us and we'll set up a time to really get to know each other.
© Copyright 2003–2011 Mattlin Mandell, Inc.