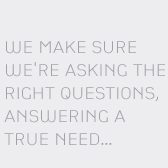 Of course if you work for an entertainment company "cool factor" is a part of your stock in trade - and the latest flash may be a legitimate business mandate. In that case we've got some designer/developers who can make a web browser sit up and beg for mercy. But if you're like one of our more typical clients: a product manager, brand manager, advertising VP or divisional CMO — or a production company, public relations, promotions or advertising agency looking for an online partner with equal parts marketing, communications and technical savvy, well, chances are you're going to need a good helping of substance with your style - and maybe a side of measurable results thrown in.
In addition to our consultative services we provide project-specific services including dedicated end-to-end Project Management, Requirements Definition, Information Architecture, Creative Direction, Design, Content Development (original and licensed), Production, and Programming. Online campaigns are deployed and managed in conjunction with key partner agencies under our strategic direction, with raw campaign performance data being analyzed and reported back by Mattlin Mandell against your campaign objectives.
So what exactly do we do? We make sure we're asking the right questions, answering a true need - and then we assemble a considered and tailored response that consists of just as much, or as little, as you need to achieve your goals.